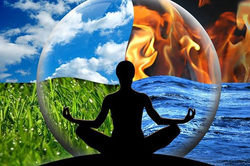 In college I was really fascinated with neuropsychology. Many interventions in the field of psychotherapy and counseling are chosen intuitively by a therapist, and it is always interesting to find biological/material proof for emotional changes in our brain and to see which approach is more effective. Not until I read the book of
Bruce Lipton, The Biology of Belief
, I realized that sometimes what we are trying to measure can be measured only if we look at it in a certain way.
Our mind and our body are interconnected. Our bodies are built from the molecules that consist of atoms, and atoms are made of energy. In the universe, the energy and matter are deeply entangled. Our body can be regulated by chemical signals and energy signals created inside and outside of the body. Our society is constantly learning how to improve efficiency of chemical signals that regulate our bodies in the form of drugs, but, we are still wondering how to use the universal energy to balance our mind and body. And don't get me wrong, drugs can be lifesaving in many situations, but sometimes when we are looking for help in a form of a pill we are looking in a wrong place.
When you start any type of treatment, your mind effectively participates in the treatment process. All of your thoughts have their own chemical blueprint. Your mind is a doctor behind the scene that regulates the effectiveness of all the interventions and can either support or undermine your recovery. The human history is full of stories of people who have spontaneously recovered from serious illnesses and benefited prom placebo medications. Why some of us can do it and others do not?
The answer lies is our deepest believes that are impacting every aspect of our life. Your beliefs are like the filters that change what you see around you. While it is important to surround yourself with positive people and positive information and to notice and change self-defeating thoughts, it is just part of the work. In the end we need to learn how to access and shape our deepest subconscious negative believes.
Great spiritual leaders of all times were proposing solutions for problems of our restless minds. Whether it is meditation, relaxation,
Reiki
, Qigong, Tai Chi, Yoga, prayer, holistic practices, acupuncture, creative endeavors, it should be something that YOU believe into and are willing to practice regularly.
If you are trying to change your own self-limiting beliefs, ask yourself what is one small activity you are willing to do to stir up the positive energy of the universe that lies inside you. Then remember doing it regularly and to be open to new information and possibilities. If you are searching for answers, they will always come to you in some form, you just need to be "attuned to the right channel" to be able to receive and understand them. After all the power of your imagination is unlimited.
Lana Emelyanov is a licensed therapist and offers psychotherapy and counseling to all ages. Call today for a free 10 minute consultation. Tel: (978) 393-1770.Serving Middlesex County and the greater Nashua area, including but not limited to Westford, Acton, Littleton, Groton, Ayer, Carlisle, Chelmsford, Tewksbury and Maynard.