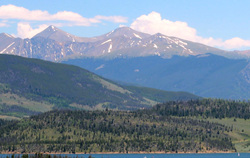 Two weeks ago I returned from the No Barriers Summit held at Copper Mountain, Colorado. All my life mountains have been inspirations for me and my family. I was a mountain climber in college and my heart always belongs to those magnificent, towering peaks, valleys, mountain streams, and icefalls. Mountains remind me that the world is beautiful and calm. They ground me and give me a new perspective. Issues and troubles simply become insignificant when you hit the mountain path and gaze at the mountain ridge. Every mountain for me is a visual symbol of a big goal that can be reached with enough courage, training, planning, persistence, and support. Isn't this true for every life goal? This time in the Colorado mountains was even more special for me than usual. I met many amazing people, whose life stories about persistence, passion, and creativity continue to inspire me. One of them was Eric Weihenmayer, blind adventurer, speaker, author, filmmaker, and organizer of the No Barriers Summit. Not a long time ago I read Eric's book, Touch The Top of The World, where he talks about his life, friends, passions, and disability. If you ever need a reminder of unlimited possibilities and courage in the face of life challenges, I recommend you look into this book. I also suggest taking some time this summer to explore beautiful and quiet corners of this universe. Look at the sky, sit by the lake, listen to the ocean, walk the mountain paths, listen to the leaves rustling in the wind, and ask yourself, what makes me happy? Remind yourself about your dreams and hold them close to your heart.


Lana Emelyanov is a licensed therapist and offers psychotherapy and counseling to all ages. Call today for a free 10 minute consultation. Tel: (978) 393-1770.
Serving Middlesex County and the greater Nashua area, including but not limited to Westford, Acton, Littleton, Groton, Ayer, Carlisle, Chelmsford, Tewksbury and Maynard.